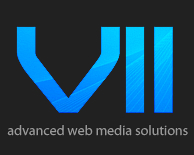 Our Services

*Website Design and Development: VII Design Concepts specializes in custom web design, website development, and eCommerce websites nationwide! Our clients include small and large businesses, organizations, personal websites in just about any profession you can think of! We enjoy working with our clients. And we know that we can meet and exceed your expectations in completing your web media project! With fantastic prices for custom website projects, we can meet your budget and get your website completed for you quickly. Feel free to complete on our contact form for a free website estimate!
*Fitness Industry Websites: VII Design Concepts has worked with supplement businesses, smoothie bars and nationwide fitness center chains in getting their businesses set up on the web with custom website design and development. Give us a call for more information today!
*Automotive CRM Management Websites: VII Design Concepts also offer an incredible service to automotive dealerships! CRM website design and development...at MUCH LOWER costs than larger CRM development companies. And, we integrate the techniques required to get your cars found on the web! Do your dealership a favor and stop paying outrageous costs. Put more profit in your pocket. Call us for more information today.
*Physicians/Doctor's Office Suppliers Websites: VII Design Concepts also offers medical supply businesses the development of secure online portals for physicians to login and order their office supplies. Lower your overhead on your web media needs and see what we have to offer. Call us for more details.
*Website Maintenance: Your website information is of vital importance to your website visitors and your success. Delayed information can leave your visitors lost and you could lose a potential customer. These are profits lost. We take your website information as seriously as you do, even more so. VII Design Concepts offers several website maintenance plans that will keep your website updated with fresh, new information on a regular basis. Call us today for more information!
*Custom Logo Design: The identity of a business is of critical importance. The idea behind corporate logo identity is to leave a footprint in your visitor's minds. VII Design Concepts can design a very catchy logo for you! Our prices can't be beat. Call us today.
*The Ministry Zone: This division of VII Design Concepts is providing churches, ministries, and Christian organizations around the world with affordable website solutions! And we don't hold back on great features to get your organization jump-started on the web! Call us today for a free estimate!
*Web Hosting: If you are looking for rock solid and "monitored" web hosting, then look no further. VII Design Concepts offers Linux web hosting plans on VPS servers that are monitored 24/7/365! Remember, you get what you pay for. So, when it comes to web hosting, do not compromise with low budget web hosting from resellers that are never around. Call us today for our hosting prices!
Mission

Our mission is to provide our customers with high quality products and services at competitive prices. It is our responsibility to fulfill our customers' needs precisely to their specifications and in a timely manner. We must continuously improve the way we do business in order to keep our prices competitive and our quality high.
Recent News

Latest Website Releases
South Texas Filter and Supply Company
VII Design Concepts releases official website for South Texas Filter & Supply Company > Industrial Oil & Natural Gas Filters, South Texas Filter
Saltitude Outfitters
VII Design Concepts releases official website for Saltitude Outfitters > The Best in Texas Fishing and Duck Hunting, Saltitude Outfitters
International Missions Outreach Haiti
VII Design Concepts releases official website for missions outreach in Haiti, International Missions Outreach
Wear a Message, LLC
VII Design Concepts releases official website for Wear a Message > Faith~Hope~Charity, Wear a Message
International Missions Outreach Haiti
VII Design Concepts releases official website for missions outreach in Haiti, International Missions Outreach
POWER BLENDZ
VII Design Concepts releases new website for nationwide smoothie bar franchise, POWER BLENDZ
Ridgetop Interiors, Inc.
VII Design Concepts releases new website for metal frame working and construction company, Ridgetop Interiors
Moriah Institute of Christian Studies
VII Design Concepts releases new website for worldwide Christian College, Moriah Institute of Christian Studies

Our new website is phenomenal – far beyond what we'd imagined and far better than what we'd even asked for. Not only did VII Design Concepts deliver an out of this world website, but each time we make a request to update a phone number, address, etc., they are right on top of it. There is no way anyone else will do our sites.
(Dr. Marian Jones, President, Moriah Institute of Christian Studies)